My Journal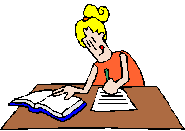 January 6, 2005
I go for a "regular" girl doctor's visit expecting the usual embarrassing exam. I am truly unaware of how "un-regular" my life is about to become. My doctor's facial expressions become serious and she gives the nurse a list of tests to run. It becomes quite obvious to me that something's wrong.
January 7, 2005
I go to the local hospital to have a CT scan. Boy do those things suck! You would think by now, with all the medical technology doctors have, they would have come up with something better than drinking two bottles of barium. I mean really! It's bad enough getting a CT, but having to drink a liquid that is thick enough to hold a straw up....need I say more?
After waiting a few hours we meet with my doctor and she confirms our worst fears-ovarian cancer. Hearing the words was hard enough, but having to tell the horrific news to our family was excruciating. I could see the fear and horror in their eyes and it pained me to know that I couldn't make it go away. I knew it wasn't my fault that I had cancer, and yet I felt an incredible amount of guilt for being "the cause" of their stress and fears.
January 11, 2005
I have a biopsy at the UVA medical hospital. My oncologist wants to make sure it is ovarian cancer. I must have been pretty nervous because as soon as the doctor began to make a mark on my stomach I jumped up and yelled "What are you doing to me! I'm not ready for this yet!" I must have scared the poor guy because after that "incident" he explained (in great detail) everything he was doing. But come on! The guy had to understand my "irrational" behavior. He was sticking the largest needle known to man inside my belly. This isn't the Discovery Channel! The guy was sticking a HUGE needle into my belly, I repeat, MY BELLY! The overall procedure wasn't too bad, but I have to admit that the needle did hurt....a lot. Afterwards, when they asked me what kind of band-aid I wanted I asked if I could have a Virginia Tech Band-Aid. GO HOKIES!
January 13, 2005
There is something about Thursdays that just hate us. Last Thursday I found out I have cancer. This Thursday I find out that not only do I have cancer, but it's an extremely rare cancer. The going survival rate is 20%...What are the odds? I ought to be playing the lottery. The next step for us is to find a doctor who actually has experience with this kind of cancer. I am definitely worried. What if we can't find a doctor? What if we do find a doctor and he's on the other side of the country? What if they tell me there isn't a cure? What's going to happen to me?
January 23, 2005
We found a doctor! (And get this...he's only 1 1/2 hours away)
After meeting with Dr. Weiss and getting lined up for chemotherapy, I decide to go and cut my hair. Now, in case you don't know what I looked like before cancer, go back to the main page and look at my picture with LONG hair. Need I say more? Yes, it was traumatic, but I cut my hair short because I was tired of cancer taking control of my life. It had taken enough from me and now I was going to be in charge. I donated my hair to Locks of Love so that it could be put to good use. After all, I didn't need it anymore. I kept telling myself that my new "do" was cute and being bald would be manageable... at least that is what I kept telling myself. But deep down....it sucked. I hated cutting off my hair and I truly hated the thought of being bald.
January 24, 2005
What a day! Dr. Weiss called today to say that Dr. Sugarbaker ( a doctor in Washington DC) was interested in taking on my case. Obviously I have mixed feelings about this because I had gotten myself ready to start chemo and the this "show on the road". I have even CUT OFF MY HAIR! I have an appointment next Monday to meet with Dr. Sugarbaker and I definitely feel a bit unsure about this. I'm on my third doctor and patience is NOT my middle name. I know in my head how important it is to find the right doctor and the right regimen of treatment, but I still feel like we are spinning our wheels . It seems that Dr. S's approach will be to do surgery, abdominal chemo (5 days) and then regular chemo. My hospital stay is lengthy (15-21 days) BUT it appears that I will be at an extremely good hospital with some of the best doctors on the east coast. So, I guess that makes me feel a little better about staying in a hospital that is 4hours away from home. I still feel quite nervous and scared because I don't know if I'll like this new doctor or if he'll even treat me like a human being. I'm scared of what he'll say or whether he'll remind me of the "odds". Dr. W strongly believes that I'm in good hands with Dr. S and I'm just trusting that God knows what is best. But boy is that hard....trusting. I truly have little control of the situation and that bothers me incredibly. I read two verses today that reminded me of God's protection:
Psalm 91:4 He will cover you with his heathers and under his wings you will find refuge; his faithfulness will be your shield and rampart.
Psalm 91:11 For he will command his angels concerning you to guard you in all of your ways.
Oh yeah, did I mention that I've named the tumor growing in my stomach. Yup I did! Dirty Harry.
February 4, 2005
We met with Dr. Sugarbaker and have scheduled my debulking surgery (February 8). It's hard to be 24 and wonder whether you'll be around to see 30. It's hard to go from being a healthy, active person to a person who has cancer. This surgery is going to be a "rough one" and I'm scared beyond words. After Dr. S discusses the risks of the surgery with us, he then informs us that he can't give me a % chance of survival because the the rarity of the situation. It's now really starting to sink in that this cancer could kill me. But I refuse to see myself as a victim; only a survivor. God has blessed me with an amazing ability to fight and there is a reason he made me such a hard-headed, feisty woman...and that is to survive.
February 22, 2005
Well, I think that we can agree that surgery and recovery has definitely NOT been a walk in the park. My surgery took approximately 11hrs and during that time all visible tumor was removed. By the time I went in for surgery, Dirty Harry had his own blood supply and had taken over the majority of my abdomen. I received a hysterectomy, splenectomy, greater omentectomy, a right colectomy, numerous lymph nodes in the abdomen were removed, gallbladder removed, my diaphram was scraped, and tumor was removed from my liver. That's just to name a few! I also received 90 minutes of heated chemo to my abdomen as well as lots of blood and plasma. I woke up from the surgery to find a breathing tube down my throat-now that is something fun to wake up to! I was in the ICU for about 2 days. I have been told that during this time (because of the breathing tube) I wrote notes to everyone with language that is not suitable for small children. But there's no proof! Besides, pain medication does nasty things to your brain and I'm not responsible for my actions during that time. Smiles! I have about seven drain tubes coming out of me and an incision that goes from my boobs to the other end-a real "show and teller". Have I mentioned my "take-out" bag? I hate it and for those who don't know what a take-out bag is... it is a colostomy bag. It sucks, but it isn't permanent. In about 9 months I can have it reversed so I shouldn't complain too much. Four days after surgery I started chemotherapy. I also developed shingles, a bladder infection, and a stubborn high fever. Overall my stay at Washington Hospital Center was just wonderful. But before I forget, I do have to take my hat off to the wonderful nurses who were just great! Thank you!
Wanna read more about my hospital stay? Click below.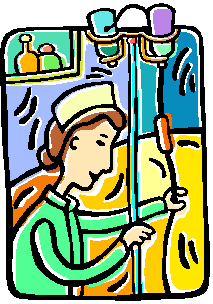 March 16, 2005
I'm HOME! Finally, after what seemed like ages, I'm allowed to go home. I am still on TPN, a nutrient bag that is given through an IV, and will have to remain on one for a couple of weeks. I met with my local oncologist and will resume my chemotherapy next week.
March 28, 2005
I don't know if being at home is all what it is cracked up to be. I don't have a call button. I have to get my own food and if I want some good drugs, there isn't a nurse to come and give it in my IV. I figured that once I was home I would be able to get back to my "normal life"...HA! That was a good one because my life is very far from the way it used to be. I find myself constantly wishing for my old life back, knowing it will never be the same. I feel horrible that Jeff has to deal with all of this mess and that his life has also been flipped upside down...because of me. But he is an incredible human being, constantly reminding me of my goals and about WHY I need to get better.
April 5, 2005
Good News! Good News! My cancer marker (CA125) results are in and its good news! Boy, I could use some good news for a change. Last week we had a "talk" with my doctor about this marker and he was pretty insistent that the numbers were going to come back high due to lots of "doctor reasons". Whatever...he doesn't know anything-well...that's what I wanted to tell him...but I didn't. I figured I would just "show him" when my results came in. HA! It was great...I loved being able to give the "I told you so" smile to my doctor. I'm truly not out to get him...just show him up a bit. Smiles! Anyway, the results came back at 100 (30 is normal and I was over 1000 pre-surgery).
After getting back home and letting the fantastic news sink in, it hit me what God was doing for me. I feel humbled that he would continuously allow such miracles to come my way. What makes me so special? I am just in awe of his healing power and what he has been doing in our lives. I look back and think about all of the things that I have lost because of this cancer, and yet I have gained so much as well. I know he has a plan for us....it's just a matter of time before we see it played out.
May 4, 2005
Once again...great news! I had a CT and it came back all clear! Yipee! So maybe I'll have just a few more months and then I'll be done with chemo and in remission.
May 25, 2005
Well, I've caught my first head/chest cold since I've started chemo. Man does it suck. Having a cold is bad enough but when you are trying to do chemo to....I may be Wonder Woman...but even Superman had his weakness. Jeff and I also made a huge decision about next school year. It has been tremendously hard trying to work as a school teacher with chemo...and I only go in once a week for 4 hours! So, at the tender age of 24 I am going to retire on disability. It's a difficult decision because I LOVE my job, but I also know that I need to do what's best for me health wise. I'm not too sure what I'll do for a year at home, but I'm sure that God will give me some ideas and the girls at work will find me some busy work! I haven't broken the news to my principal or friends at school. I feel like I'm letting my team down because my big goal throughout all of this was to get back to school in the fall and its not going to happen. I'm definitely bummed!
June 17, 2005
It's been another "Thursday". My doctor thinks the cancer has gotten into my lymph nodes. I was pretty floored by the news because in my head I had already beaten Dirty Harry. Words can not begin to describe my shock and disappointment. I must have been in denial about the growing lump on the side of my neck, but now it is quite obvious that we need a new game plan.I begin to wonder about God and our "deal". I wonder about my faith and whether I was faithful enough. What had I done wrong? I'm starting to wonder whether it is even worth fighting anymore. Rereading my book A Reason For Hope has given me comfort and reminds me that setbacks do not mean defeat. I opened up my bible and found myself reading in Luke 8 about a girl being healed and in Luke 7 about God healing the lepors. God told them all that their faith had healed them. That is what I have to remember and hold on to- my faith WILL heal me. In the back of my journal are my 4 reasons for living and read (and reread) each of them I remind myself that I have so much to fight for. Here's a good quote for the day.
"When it is obvious that the goal cannot be reached, don't adjust the goals, adjust the action steps." Confucius (Chinese philosopher)
And that is exactly what we are going to do!
June 28, 2005
Dirty Harry Returns....but not for long!
A lot has happened since I last wrote. My abdominal CT came back and showed some marginal tumor growth (shading is what the DR called it- there aren't any hard masses in my abdomen). "Dirty Harry has returned". Dr. H was very kind about it all and his course of treatment matched the one Jeff had seen online. Yippeeee! We will be seeing Dr. W at UVA for a second opinion....just in case. today I started my new chemo regimen and boy has it wiped me out! I have 4 straight days of chemo and let me tell you.....it's going to be a blast! This new chemo is going to make me lose my hair (the last type I was only made my hair thin out). I'm disappointed at the prospect of loosing my hair but at this point I'm just ready to kick Dirty Harry's butt! So if that means I go "GI Jane" for a while...that's okay. Jeff is going to shave me head soon....and we are going to make a mohawk to have a lil' fun. OH! And I did get an incredibly cute wig to wear. And get this, it's even better than my old hair! There isn't any blowdrying, curling, or styling.....you just stick it on and go!
July 10, 2005
I RAN today! Yes, you are reading correctly, I RAN! (okay...actually it was a "light jog") January was the last time I ran and boy have I missed it. I can't even begin to describe how good it felt to hear my feet pound the pavement. I was so elated that I even cried...just a bit...they were happy tears! I'm sure I'll be really sore tomorrow but I don't care because I ran 6 months after major surgery (and while I'm still on chemo!). I'm da BOMB!
July 13, 2005
Yesterday we went to UVA to see Dr. W and get his opinion on the situation. He agreed with the current course of treatment, but I found out there are 17 rounds of this! For the Love of Pete! Have I not had enough chemo? Mosquitoes won't even bite me b/c I have so much chemo crap in my blood! I was thinking that we'd do this until February...max! GRRRRRRRR! Well to sum it up in a sentence: I'm pissed and bummed. Today I also started my web page to kinda bolster my "attitude" and I was surprised at how empowered I felt. It was like I was taking Dirty Harry by the horns and showing him who's boss. I really like that kick butt feeling. And even better....at my last visit with Dr. H, we found that my lymph nodes have begun to shrink! I liked seeing the shocked look on his face when he felt my neck and said "Oh my...it's gotten smaller!" Dirty Harry....your time is running out!
July 25, 2005
My lymph nodes are continuing to shrink with each round of chemo. I'm beyond excited that these drugs appear to be working, but I'm still "blah" about the fact I'll be at this for another 15 hellacious rounds. My hair is almost gone now and I look like a freak! Why does loosing hair have to be such a "thing"? I prepared myself, I shaved it, and even got a wig- and yet when I look in the mirror I just want to cry....I hate looking like a holocaust victim...and then I feel guilty for being so vain. GRRR! Life can be so complicated.
August 16, 2005
Today was my 2nd day of my 4-day chemo adventure. Yesterday my visit with Dr. H was fantastic! Yes, I said FANTASTIC! My hemoglobin is up to 10.4 (12 is normal and I'm usually around a 7). I now weigh a whopping 113.6lbs and my lung capacity continues to improve (thanks to running). Oh! Have I mentioned that I can run a solid MILE now!? Dirty Harry is now down to 2 cm (he was 3.5)! Let me tell you, the doc was impressed. A few days ago we started a new supplement called IMMPower. Boy does it seem to work because normally I feel like crap the week I get my 4day treatment and I've been going home and doing housework/walking...you name it! I published my website today even though it isn't all finished, but I'm getting closer each day! Though cancer has robbed me of many precious things, it has also made me into this strong, humble, and forgiving woman. It has made me embrace my feistiness, while allowing me to accept who I am. A good quote for the day would be from Lance Armstrong's new Tshirts for cancer research..."There are only good days and better days!"